Excuse me Officer, is that a flesh gun in your panty pouch or are you just pleased to see me? Fortunately it's both! When Office Orifice aka Dear, says 'jump', you damn well sure better say 'how high?' This deadly domme Thai shemale has a hard truncheon and she knows just how to use it. In one of my favourite LB69 uniforms of all time, delicious Dear leaves on her leather topped fishnet stockings, Officer's helmet, and kinky big black boots whilst she wanks away! There may not be the creamy end we wanted but plenty of cum will be shed over this video!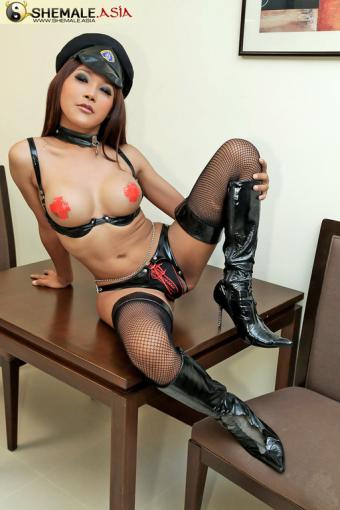 This week's Shemale.asia feature girl is one of the hottest and most sought after ladyboy stars in all of Asia. From her perfect, round titties to her her rock hard she-cock to her insatiable sexual appetite you can see why she's a star; and that's before you even get ahold of her steamy, hot video update.
Pancake tossing is one of my favourite hobbies here in Bangkok, though it helps that the pancake I enjoy tossing is a five foot five short haired ladyboy minx, with large firm breast, thick and smooth thighs, a large bubble butt, a chunky cock. Sadly I wasn't around to help toss her off this time, but Pancake does an awesome job of fingering her asshole, wanking her meaty weapon, and spraying cum all over her stomach.