Shemale Jonelle Brooks teasing in black fishnet. Take a look at Sexy Shemale Jonelle Brooks posing and stroking in black Fishnets and sexy Boots . Doesn't she look sexy as hell ? This is what Shemale Jonelle Brooks has to tell us . Hi there y'all! My name is Jonelle Brooks and I am a 24yo Sexy Shemale living in Daytona Beach, FL! I am here to meet all of your sexual needs wrapped into my website. I'll be waiting for You Inside! I Will Make All of Your Wild Fantasies Come True… Watch me go from girl next door to dirty little slut as you flip me through the pages of my exhibitionism. Rising to the top or falling in the bottom, its all here for you to see, if missed anything make sure and let me know how to get us both off. Come get wrapped up in me…Hugs n Kisses, Jonelle
Sexy Shemale Jordan Jay in black Bodystockings and red Boots . Any excuse for me to model my new red kinky boots hehe, you have to admit these knee boots were made to be photographed and showed off 😀 (and you know i will do a shoot ANYWHERE lol) they look even more awesome with my bodystocking and dick hanging out 😉 come in and see just how naughty i get in them… 😉 Click here to see more from Shemale Jordan Jay
Hiya Guys, and welcome to my website just for you!! All the hard work has finally paid off and i hope you enjoy what you see, just has much has i have enjoyed doing it 😉 I am assuming you have seen or heard about me, in which case have fun watching me in new sexy scenes and hot clips. If not, then you're in for a nice surprise (hehe). We all deserve a treat so cum inside and see me in sexy Lingerie, getting naked with my pert tits, hard cock and tight ass…i know that's what you really want. 😉 Have fun!!  Shemale Jordan Jay
Excuse me Officer, is that a flesh gun in your panty pouch or are you just pleased to see me? Fortunately it's both! When Office Orifice aka Dear, says 'jump', you damn well sure better say 'how high?' This deadly domme Thai shemale has a hard truncheon and she knows just how to use it. In one of my favourite LB69 uniforms of all time, delicious Dear leaves on her leather topped fishnet stockings, Officer's helmet, and kinky big black boots whilst she wanks away! There may not be the creamy end we wanted but plenty of cum will be shed over this video!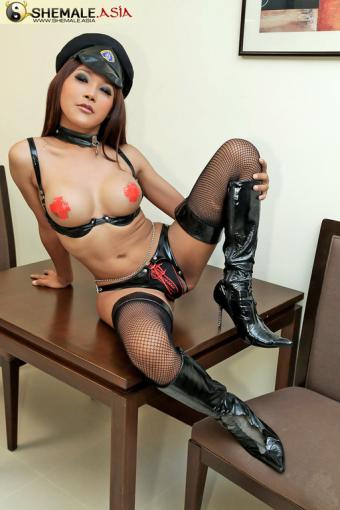 This week's Shemale.asia feature girl is one of the hottest and most sought after ladyboy stars in all of Asia. From her perfect, round titties to her her rock hard she-cock to her insatiable sexual appetite you can see why she's a star; and that's before you even get ahold of her steamy, hot video update.
Pancake tossing is one of my favourite hobbies here in Bangkok, though it helps that the pancake I enjoy tossing is a five foot five short haired ladyboy minx, with large firm breast, thick and smooth thighs, a large bubble butt, a chunky cock. Sadly I wasn't around to help toss her off this time, but Pancake does an awesome job of fingering her asshole, wanking her meaty weapon, and spraying cum all over her stomach.
We have a new mega cock tranny for you today and I think you're going to really like the size of her black cock! Watch Joyce put on a slow striptease in red panties and white boots before whipping out her monster and once it's out, there's no putting it back until it has been satisfied.
Likem BIG? Do you likem THICK? Who doesn't like sexy girls with huge cocks! These vixens have a modelesque beauty but are viscious when you let them on top! With dicks thicker than a can of pop ready to burst no bottom is safe. Are you man enough to take on 9 or 10 inches of super cock? If so, Welcome to Mega Cock Tranny!
Today here at Sexy Shemale i have blonde Japanese Shemale Kanato posing in black Boots . I am sure you`ve heard of, if not know very well about, Cosplay. Did you also know that Cosplay based on anime characters has a big following in Japan? Kanato is a TV celebrity Shemale newhalf who owes her fame to cosplaying anime characters from such globally successful anime series as `CODE GEASS Lelouch of the Rebellion` and `MACROSS Frontier`. Strictly speaking, Kanato is a cross-dresser rather than a newhalf. She has never used hormones. However, when dressed up there is something about her that is so feminine and just very intriguing! Shemale Kanato is 20 years old now. She is originally from Nagoya, Aichi Prefecture but now lives in Tokyo. She likes to spend her leisure time on hanging around Akihabara, Japan`s famous Electric Town, reading fantasy novels, and playing video games. She also likes to play the piano, a skill she`s had since childhood. Her favorite musician is Chopin. Her favorite movies are Titanic and The Matrix; Her favorite actor is Leonardo DiCaprio and actress Scarlet Johanson. Sexually Kanato is attracted to men. She loves to be topped in anime character costumes. She told me that she discovered the joy of masturbation through pole climbing when she was young, and rubbing herself to a pole is still how she likes to get herself off now! When Sexy Shemale Kanato is in her Cosplay character her voice changes – she sounds like a genetic girl and guys have no idea. She confessed that often times she would go with a guy in disguise and then told him the truth when they are already in the hotel room. `So far not a single man who claimed to have no interests in a cross-dresser did not fall for me,` said Kanato with a devilish grin. A 20 year old cross-dressing enchantress is this Kanato! Click here to see more at Shemale Japan
Time for something new here on Sexy Shemale . Today i have a brand new Shemale for you . TS Carmen Moore known to be one of the First American Indian Transsexual Pornstars worldwide is posing in black Latex Boots  . This is what Shemale Carmen Moore has to say : First off, I want to Thank all my fans for your continued admiration and support for what I love most, SEX!!! This site is dedicated to you all. Although I'm Known to be one of the First American Indian Transsexual Pornstars worldwide, I have yet to prove myself but definitely working hard (LITERALLY) to do so. Here you will find me fullfilling all my lustfull fantasies and desires, perhaps one of yours too! This is the first step in what I have in store for you all. So sit back, go grab your favorite lube and box of tissues and enjoy me Carmen Moore in some hot XXX action!

Kimberly Kills is a hot new TGirl who was really excited to do her first shoot. She told me she has been a fan of Grooby sites forwever and modeling for YUM has been her dream since she started her transition 5 years ago. She is a really cool girl who is fun to hang out and chat with . . . but she also has an insatiable sex drive. She is a versatile girl who prefers to bottom but she can definitely top and is a very aggressive girl when she gets the chance.
She is into the BDSM lifestyle and also loves big cocks and even bigger dildos. In the second set she picked out the biggest dildo I had in the studio (no other girl has ever taken this one) and she crams it up her ass and really gets off on it. She was not a 10 second girl either. When I took a break between pics and video she just kept fucking herself with it. This girl really is insatiable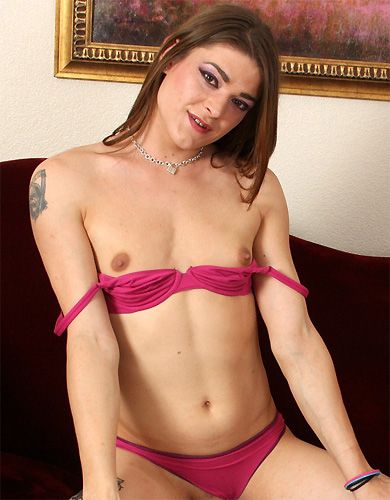 Sexy Shemale Domino Presley and I first talked through myspace and she was very eager to shoot as soon as she came out to L.A. from Atlanta. I saw a few pictures but had no idea just how beautiful she really was until she showed up at my door. Wow!! She's got everything that I personally dig in a t-girl…gorgeous face, sexy body, booming booty…she exudes femininity!! She lives in L.A now. We've done quite a few shoots since and have become good friends. You'll definitely be seeing more of Domino here!!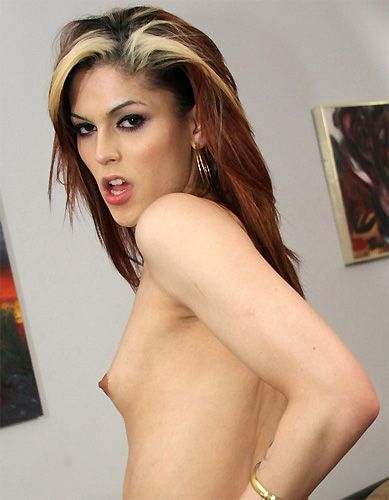 Whether you're married or a full time bachelor, every red blooded man deserves the services of a kinky Mistress, and what better than a mistress who is packing an hung meaty surprise and knows just what a filthy minded guy wants?.. In my platinum blonde hooker wig, skin tight PVC top, see-thru bra, 'quick release' panties, and a pair of shiny thigh high big black boots, this outfit means business and it's built for lots of 'rough love'. I just wish you were here, tied to my bed or grovelling at my feet, ready for my whip, sex toys and my own throbbing fuck stick.. Looks like I'll just have to keep my self entertained for now with my thick pink butt plug!
This naughty Asian shemale was teasing me last night, as I watched her through my best camera. Her naughty fishnet stockings and long black boots had me gazing at her slender soft legs. As she held open her smooth thighs, you could check out a teasing glance up her leopard-print skirt. I began drooling at her luscious shemale dick and tight round butt, immediately. This perfect Asian chick will keep you hard for days after you've discovered her.