Excuse me Officer, is that a flesh gun in your panty pouch or are you just pleased to see me? Fortunately it's both! When Office Orifice aka Dear, says 'jump', you damn well sure better say 'how high?' This deadly domme Thai shemale has a hard truncheon and she knows just how to use it. In one of my favourite LB69 uniforms of all time, delicious Dear leaves on her leather topped fishnet stockings, Officer's helmet, and kinky big black boots whilst she wanks away! There may not be the creamy end we wanted but plenty of cum will be shed over this video!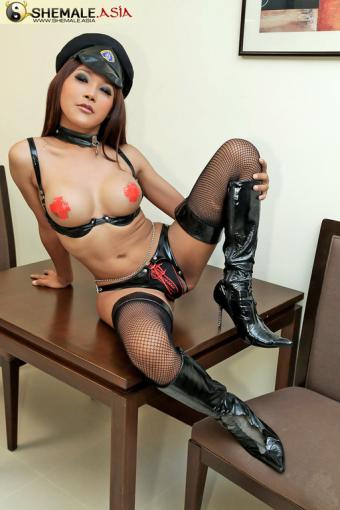 This week's Shemale.asia feature girl is one of the hottest and most sought after ladyboy stars in all of Asia. From her perfect, round titties to her her rock hard she-cock to her insatiable sexual appetite you can see why she's a star; and that's before you even get ahold of her steamy, hot video update.
Pancake tossing is one of my favourite hobbies here in Bangkok, though it helps that the pancake I enjoy tossing is a five foot five short haired ladyboy minx, with large firm breast, thick and smooth thighs, a large bubble butt, a chunky cock. Sadly I wasn't around to help toss her off this time, but Pancake does an awesome job of fingering her asshole, wanking her meaty weapon, and spraying cum all over her stomach.
Hi boys, it's been a long time since you've seen me and I've got some big new boobs for you to play with. I've just finished working out so why don't you follow me into the shower and watch me lather up these luscious titties. Do you like watching me soap up my tiny body and huge shemale cock? I get so horny knowing that you're spying on me in the shower! Now watch me stroke my girl-pole until I make a big sticky mess all over myself! Click here to take the Free Tour at Shemale Strokers
Don't you just love a good striptease? I do, especially when there's a nice, big surprise waiting to be uncovered in a lacy pair of panties!
Ladyboy Jene gives one hell of a striptease on the pages of Shemale.Asia for the Members there. Just check out those long, luscious legs and imagine them wrapped around your back! Then, she slowly lowers her top down, revealing her perfect titties just waiting to be played with and sucked. And of course, sooner or later, she would slowly strip off those lovely panties, revealing her hard Ladyboy cock just waiting for your mouth! Ladyboy Jene definitely has the body of a stripper and I know a lot of guys who wouldn't mind ponying up a few bucks for a private moment or two with her!
She's been writing poetry ever since she could hold a pen, and she's one of the most gifted around. Her name is Africa and she's got one of the best bodies I've ever seen. After the poetry night ended, we ended up back at her place where she let me see some work that not everyone gets to see. She came out the bathroom in a sheer black dress that revealed her sweet titties and massive shemale dick. If the red-hot audition she gave me means anything, she'll be on the team in no time!
My pal and I had just skipped out on our volley-ball game when he set about telling me all about this spectacular chocolate shemale he hooked up with. Her fabulous petite titties and round erect nipples gave him a throbbing woody. She had sexy silky legs, which go all the way up to her perfect jiggly booty. The sight of her stunning chocolate shemale dick will stay with me for a long time. She will decidedly send me a sex dream tonight.
When this spectacular chocolate shemale bade me over for some games, we ended up playing all over each other. She started things up speedily by taking off her clothes, and I couldn't help but go nuts over her sexy round titties and puffy firm nipples. Her soft sexy legs lured me, and her juicy chocolate behind had my dick hard in no time. You would cum in your trousers at the mere image of this randy chocolate cutie.
I noticed this lovely chocolate shemale girl the other day, coming out from the office. I just had to envision her luscious young body buck naked. Her spectacular petite titties and erect puffy nipples would get me slobbering in no time. Her erotic smile and awesome eyes are about as seductive as her glorious shemale dick. Just the thought of her smooth sexy legs and nasty chocolate can make me want to cum all over the place.
Ok guys, just take an eyeful of this slutty Japanese newhalf sporting her minuscule pink baby doll dress and try to tell me you don't want to fuck her. The way her slutty red hair hangs down over that cute feminine face will make anyone stand up and pay attention. And that's not even getting into her incredible figure. The titties on this girl are small, but not too small and appear like they'd love being sucked on while she strokes off that stiff newhalf dick. Come see Yuna|this naughty little chick tease her lovely frame.
My destiny must have been on an upswing, receiving this amazing chocolate shemale on the net yesterday. She had sexy hair that fell past her spectacular firm titties, and the hottest silky legs I'd ever seen. You will be brought in by her fresh smile and sweet round butt. I couldn't help but ogle as she got nude right on my screen. I was stiff as a board after checking this wicked hard chocolate shemale.
While hanging out with a pal over lunch the other day, he told me about this naughty Brazilian shemale babe he met. He told me about how her lovely titties looked just right on her skinny Brazilian frame. She enjoyed showing off for him so much, he was certain she needed his dick inside her. I tried to envision every detail, as he told me about her crazy hot legs and sweet plump booty. I told him next time to check about working me into the fun.