Born in Rio de Janeiro, Brasil the only child of a Brasilian mother and German American Father, I am a 25 year old Natural Blond ( LOL ) Bombshell. When I was 14 my parents moved to America and shortly when I was 16 I started dressing in the clothing that I always wanted to wear, then I decided to transition and live full time as a woman. I used to dress up in mom's clothing while I was growing up. Mom is as supportive as ever. After I decided to transition I moved to San Francisco, CA. where I lived for 4 years, A great city and wonderful people. I look up to several TS women, Candice Caine, Erica Andrews, Mimi Marks, Monica Munro, Vicki Richter, Roberta Close ( SRS from Brazil ), and many more are just some other names on my list. I believe a girl should look up to fabulous women as a guide to build their character. I learn from everyone I meet, even if it's a brief conversation . I like to make people laugh, I have a dry silly sense of humor, I am a nut, just like they say on the commercial " Brasil…where the nuts come from".
My view in life is: Everyone should dream… I am just looking to live my life comfortably and peacefully…The American Dream. I believe anything is possible if you dedicate yourself to your goals and give it one hundred and fifty percent of your energy and time working towards it.I also believe that destiny plays a great part in someone's existence, but although your path is written, you may chose running and laughing or being miserable and sad about learning while crossing such roads. Live one day at a time, but keep your dreams alive, in the long run we all die alone, but it's our positive impact in the world that makes us who we are. Do it all now, try it, experience life, learn, love,  make love, treat others with respect, be honest…Karma is a Bitch! It did not materialize the way I planned it, but being a transsexual is still being compared to the Hunch back of Notre Dame. People love us, but are afraid and insecure to admit it or talk about it. I am going to work really hard and reach for excellence in hopes of some day my talent be recognized so I too can have a voice.
I would like to thank a few people who made my career and life such an amazing journey. First of all – The most sweetest of all TS girls…Vicki Richter, I thank her for believing in me 4 years ago, and helping introduce me to many of my current on going professional relationships. A few of those names include Sammy Mancini, the man behind "Shemale Strokers", my mentor, dear friend and someone I look up to and learn from. On that note Joey Silvera, this man is insane and his movies are off the hook! His style of shooting has inspired my own! Also to the most talented and open minded genetic females in porn, who put themselves in a higher lever and disconnect themselves from discrimination embracing being open minded strong women, transcending criticism and hypocritical nature of the business, the women who I have had the greatest pleasure to work with – Belladonna, Ariana Jolee, Avy Lee Roth, Christy Lee, Leila Lay, Cindy Crawford, and Delilah Strong. On the last note the people who always come first in my life are my friends and family, through rough and smooth waters, though the pain and laughter they are always on my side, reaching out for my hand when I fall behind. My dear family in Brasil, Rhonda, Sammy, Vicki, Kyle Foxxx, and Angela – Thank you for putting up with me. Last but not the least my fans, thanks for the lovely emails and your kind words, thank you for your loyalty and your loving way of supporting me through my many projects. I really enjoy what I do and have a great need to do it the best way I can with you in mind. It is my pleasure to bring you the deepest fulfillment and make all your naughtiest fantasies a reality. I love to be watched and desired by you all! Thank you again for all the love you express to me, in our personal meetings, videos, and emails. I hope I give you as much joy as you have given me.

XOXO Danielle
When it comes to watching sexy Shemales having sex, I'm pretty sure that TS Eva Lin has got to rate near the top of just about anyone's list. I always love watching Eva Lin fucking and getting fucked because she is a great performer and really gets into her scenes. Here we find the sexy Shemale Eva Lin getting her ass worked by Christian's hard cock, which stretches her wide as can be. Wouldn't you just love to be him, thrusting your hard cock deep inside Eva Lin's awesome Asian ass over and over again? Now that is a workout that I'm pretty sure most guys would be willing to get into the habit of doing every single day!
Hi I am Tara Emory, from Boston, back for my third SheMale Strokers shoot. I'm a hot white TS, with a big 8 inch joy stick, nice round tits and a huge load. No, I mean huge. You won't believe how much tranny gizz I can spurt, and you'll savor every drop. Check me out.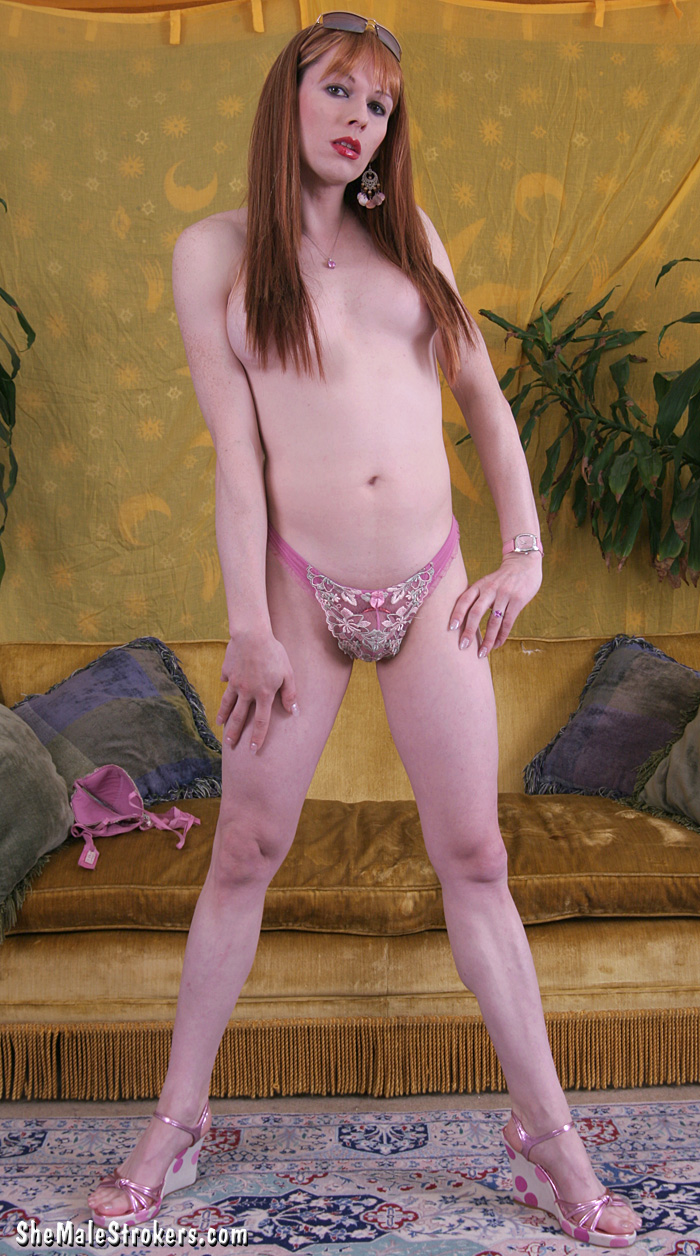 Hi, I am Mistress La Cherry Spice. You will obey my every command, you dirty little dog. That's right, Spot, do what I say. You can't resist me. Lick my 7 inch surprise, Spot. What's that Spot, you have the wrong room? You wanted a submissive TS? Oh, you made a wrong turn. Go back out and make a left, that's where the submissive girl is. Bye, Spot! ….Hello Sir, I'm your TS Sub, La Cherry Spice. I'll make you feel like the strong dominant man you are. Check out both sides of me!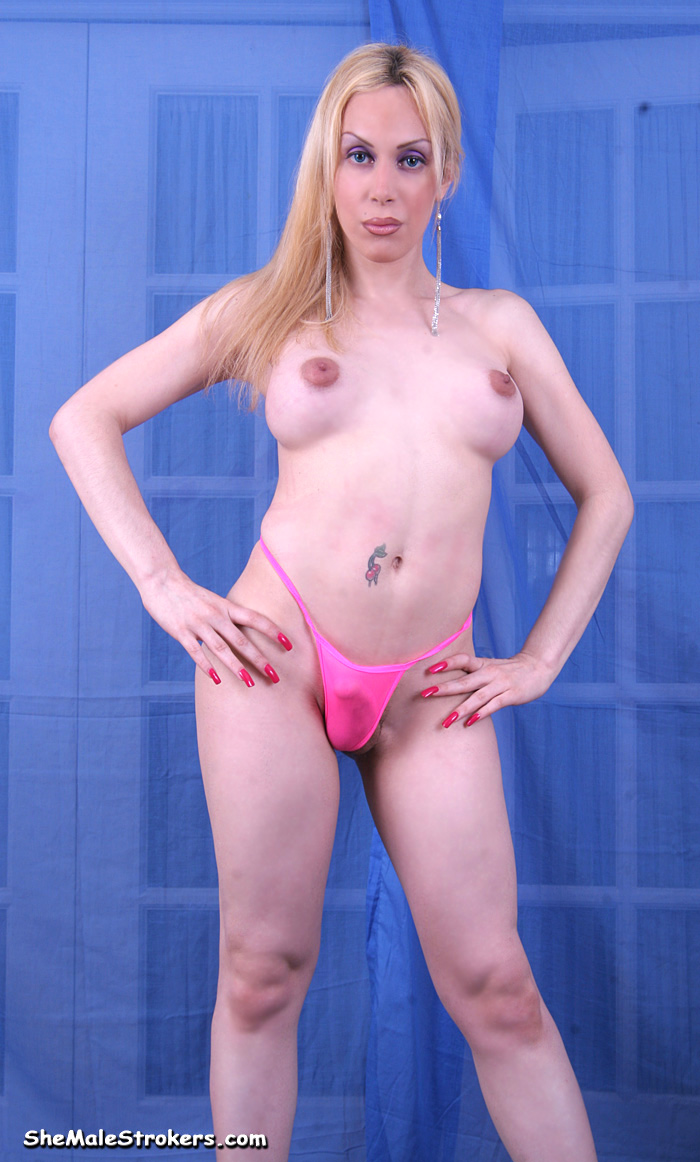 Still only 23 yrs old, Carla Novaes appears in most TS porn fans top lists and most of them, would have expected her to have been around much longer, due to the amount of DVD and website appearances she's put in.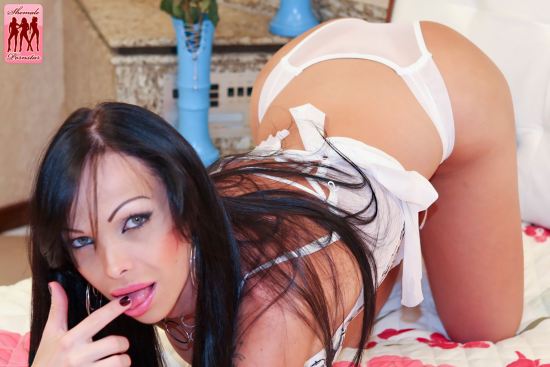 Hi, I'm Sammy Mancini and I'd like to tell you all about my Shemale Stroker Site. I started this site around 2002. At that time there were only 2 or 3 Shemale Sites in the world. Now, as you probably know, there are literally hundreds of TS sites out there. Unfortunately 90% of them are using the same recycled content as everyone else. Most of the rest of them hire outsiders to shoot their content. But here at Shemale Strokers, I take pride in the fact that I personally shoot almost all of the content on here myself, and so you know you are getting the kind of quality and care that only someone who does his own work can insure. Below are a few Examples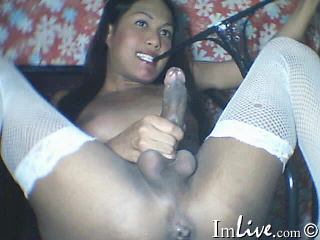 When I tell you this shemale webcam host's name is TS Stallion Cock? You're surely thinking that she's got a giant dick. At least, that is what I believed when I first saw the name. If you consider it she's got a perfect name because you're instantly stirred to at least look at her page. I mean, c'mon, who's not especially interested in a big ladyboy cock. Even if you wouldn't desire something like that fucking your ass at least you'd desire to take a look at it.
TSStallionCock is a webcam tranny and she boasts ten inches of cock hanging between her legs. Isn't that amazing? Hot damn that is's so much beef You'd barely know what to do with it. What i do know is that watching her stroke her shemale dick on webcam is a pleasure I am expecting to experience over and over again. I already did one show earlier today and she hasn't got any difficulty getting hard. Sometimes the ladyboys cum so often during the day that they have a little difficulty getting a full erection but I believe this particular Asian web cam tranny has no issues like this : )
On her host page at I'm Live she talks about how she's's turned on by nice, good looking blokes and sexy old men. I guess if you're a dude over 50 searching for a TS with a gigantic dick you've found your lady. Pussy is what turns her off so I think she's just concerned by fucking ass or being fucked by a real man's cock. Do you have the cock that will give this shemale slut the pleasure she needs? She talks about having a female face and body and apart from the notable exception of her huge shemale cock she's's right. Her smile is sweet, her nose is cute, cheekbones are high and her grin is fragile and cute. Her hips are curvy, her waist is slim and her legs are long and horny. My favorite feature is her hair, though. It's long and lustrous and she wears it straight or curled dependent on how she's's feeling that day. It's the sort of hair I would love to run my hands through. That's's all superb but the top reason to take in a webcam show featuring TSStallionCock is to test out her huge cock in action. Just watch the amazing show she gave me! this sexy shemale web cam babe strokes her dick, touches her balls and often plays with her ass. Have I discussed how massive and heavy her balls are? I guess when you have got a huge cock enormous balls come with the package. Imagine juggling those cum filled sacks in your mouth. So awfully tasty! Curious guys should visit her and take in the impressive show.
Hi, I'm TS Aly Sinclair , a hot new TS from Philly. My sweet & thick 7 inch cock is better than any cheesesteak sandwich you'll ever eat! I love to play with my long waist length hair, caress my pretty "C" breasts, and stroke that hot cock for you. Now watch me bend over and stick my new big butt plug up my sweet tranny hole. OW! But doesn't it look good sticking out of my ass as I crawl around the floor on all fours. Now honey, you might like to chow down on the cheesesteak but I like to eat a little healthier. Today my shoot snack is a bowl of berries. I do like my berries with cream so watch me shoot my white cum all over the berries, then eat every last one of them. So Tasty!
Click here to Join Shemale Strokers
Foxxy's evening begins with a hot bath in a private five star resort. After soaking, she lounges in the parlor in her silk robe, orders a glass of expensive wine and waits for the innocent server she has been eying to bring it to her. He's so innocent at only 20, Foxxy can't resist seducing him using his shyness to her advantage as he reluctantly agrees to put cock in his mouth for the first time. SEE MORE !!!!
In the late 90's, Olivia Love was one of the most recognizable faces in TS erotica. She starred in 100's of videos and made tons of website appearances in her career. After retiring, she returned 7 years later looking better than ever. Even after all those years, Olivia Love still has the same raw sex appeal that made her popular back then!  SEE MORE FROM OLIVIA LOVE !!!
There are a few shemale stars out there who have made more adult movies than Olivia Love. She's one of the most recognised TS models in the world, but left the industry for some years until recently, disillusioned that others had made hundreds of thousands from her work and she had seen little herself. Fans and admirers kept up the calls for Olivia to make a comeback, and finally she's relented, coming back with a website this time under her own exclusive control. It'll be the only place from now on for new Olivia Love content and will feature a diary, and shortly live access webcam access for fans. "My satisfaction will be based on making all my fans happy with getting to know me in a way never before possible," Olivia says.  SEE MORE FROM OLIVIA LOVE !!!
Olivia was born in Columbia, South Carolina and is of Irish and American Indian descent. Though not many people would realise it, Olivia is deaf … but she's never allowed that to stand in the way of living life to the fullest. She went through high school in Washington, DC, and after graduation lived in Fort Lauderdale, Florida, for eight years. It was when she moved to Los Angeles that Olivia Love the shemale star was born. She starred in countless movies and appeared on all top shemale websites, planning to use the money made for her Sexual Realignment Surgery. A decade later, and now living in Philadelphia, Olivia is still a pre-op transsexual, but continues to look toward SRS. Now past 30, Olivia, if anything, looks more stunning today than at the height of her XXX movie career. SEE MORE FROM OLIVIA LOVE !!!