Wow – the hot one! I first saw Yasmin on Bob's Tgirls
when she was known as Noehlani last year and since then her adult career has just exploded. She was AVN nominated TS performer and been in a bunch of movies none better than Buddy Wood's Asian Shemale Invasion in which she gives an excellent performance and bottoms for the first time on camera.
I've not had the pleasure of meeting her but I've heard she's very nice and easy to work with. She's got a huge screen personality and for an Asian girl, that huge tool goes a long, long way.
I've very pleased to present her on Shemale Yum.
UPDATE: Yasmin just keeps getting better and now that I've met her on a number of occasions, discovered that she's just a super cool girl also. A stellar performer she was nominated two years in a row for an AVN Award for us.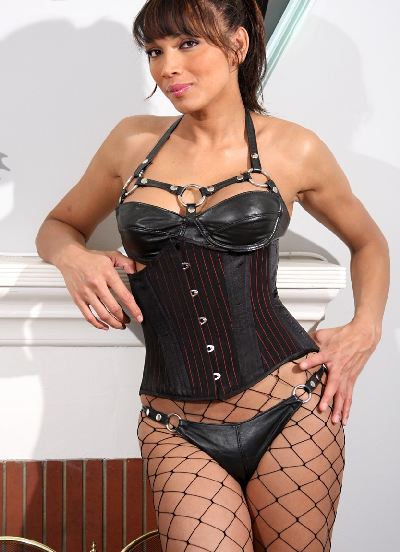 Yasmin Lee is so smoking hot, she can make anything she does look extremely sexy. Today she is at the gym ready to get sweaty with a little sex-r-cise. She flirts with the cute guy lifting weights and asks for his help. What dose Yasmin Lee need help with you ask? Well getting a hot, sweaty, vigorous work out deep in this guys ass of course.

When Yasmin Lee shows up at you're door you know your in for a treat. She will slowly strip in front of you showing you her sexy body. She will give you a seductive lap dance and make you want more. She will pull your cock out and make it grow in her warm mouth. She will bring you to your knees as you worship her beautiful feet. She will bend you over and slide her huge cock deep in your ass. She will be back for more..

TSS welcomes Yasmin Lee. She comes to us eager to play with some hot meat. Natassia shows Yasmin the ropes and Lobo serves both ladies like a pro. He sucks two hard cocks wile taking a good beating. Down on his knees Lobo sucks Natassia as Yasmin fucks his tight ass. Then Natassia cums in his ass as Yasmin gets her cock worshiped. This tag team duo is hot and we cant wait to see more.