Sexy Shemale Cheyenne plays in white Nylons . Cheyenne is a tall and I mean TALL young Sexy Shemale  from Houston. When she arrived and got out of the car I couldn't believe how tall she was-probably around 6′4″ and very thin. It sort of makes for special difficulties during the shoot as I am somewhat vertically challenged. She was quite cooperative and easy to work with though. She is versatile but prefers to top with her large cut tool. After the shoot I dropped her off at a client's house and she said she'd have no trouble topping him even though she just shot a load for the video.
Jenessa Hart is an amazing new TGirl model from Austin Texas, who I met through a mutual friend. This was her first time modeling anywhere, but she is a natural in front of the camera. She has a sexy toned body, with a cock that gets rock hard. She likes both the top and the bottom, and this girl fucks like a porn star. She's very excited to be on Shemale YUM, and is already asking me if she can do a hardcore set. I told her it's up to the fans, so you guys will have to let us know if you want to see more of her!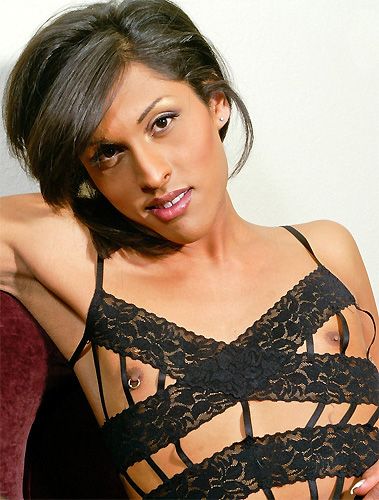 I was back in Brazil again. I have to get there at least once a week. It's quick to fly out of San Diego and get my pee pee wet. I was hanging out with Bruna Rodrigues again and wow, I was not disapointed in her brazilian shemale beauty. I told her I wanted to see her in some sexy thigh highs or nylons. She pleased me in so many ways. Her little hippy dress and great smile got my cock hard immediately. We were at the coffee house when I almost popped out of my pants. We all laughed and I asked Bruna if I could stir her latte with my dick. She said yes but I don't think it's legal in Brazil to do that in public. We fucked on the beach once but it was late at night.
I got her back to the studio and told her to lay on the bed. I wanted to take some photos of that slim slender shemale body. I like taking pictures before I stick it. After we took some photos I unleashed my load into her brazilian mouth. Just looking at her face made me cum. It was fantastic and I highly recommend getting laid in that country. You could still meet some hot latin trannies in San Diego but nothing beats South American tgirl ass ! Click here to JOIN

Adorable black t-girl Milka is in the mood for an exciting performance. She's spreading her sexy legs in white nylons open wide and bending over to show off her tight crack. Being a very bad naughty t-girl, Milka's rubbibg her engorged meaty tool till a complete release.
Get satisfied with your embodied dreams

LB-69 continually delivers fresh, super cute talent to get keep you fully aroused, and sweet Pipo is no exception. This sweet doll packs a nice pecker and pair of perky pillows, and gives her cock a good beating delivering a thick gob of tasty sperm.
All your wishes come true here

Nympho dildo junkie Nam just cannot refrain from playing with herself, she's a 24 hour a day compulsive cock craver, only one problem, the plastic fantastic is no match for genuine wood. With this in mind Double O decides to pay her a visit, permanently rock hard, he's the perfect antidote for a slut who is gagging for a shagging, he's even prepared to let little Nam take the reins and guide her pointy pecker to a special place where the sun don't shine!
Watch your desires come alive here