Naughty Naughty do you like my new white nightie? I have been dreaming about you all night and I just happened to wake up with a very hard surprise. The things you do to me in my dreams gets me so excited. I just hope when you get home today you will make those dreams come true. For now though I need to play and that dildo you bought me really needs to be between my legs. I could be bad inside my bed all day with such a hard toy inside of me. Just close your eyes and imagine how horny I will be when you finally arrive, especially after thinking about you pushing deep into me all day. You better watch out because this is one day that I will not take no for an answer!
Get satisfied with your embodied dreams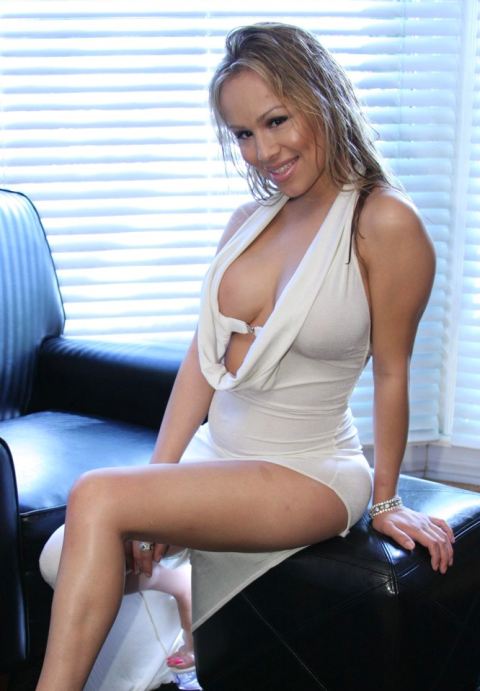 Related Posts :
Shemale Celeste is also available at Bob's TGirls !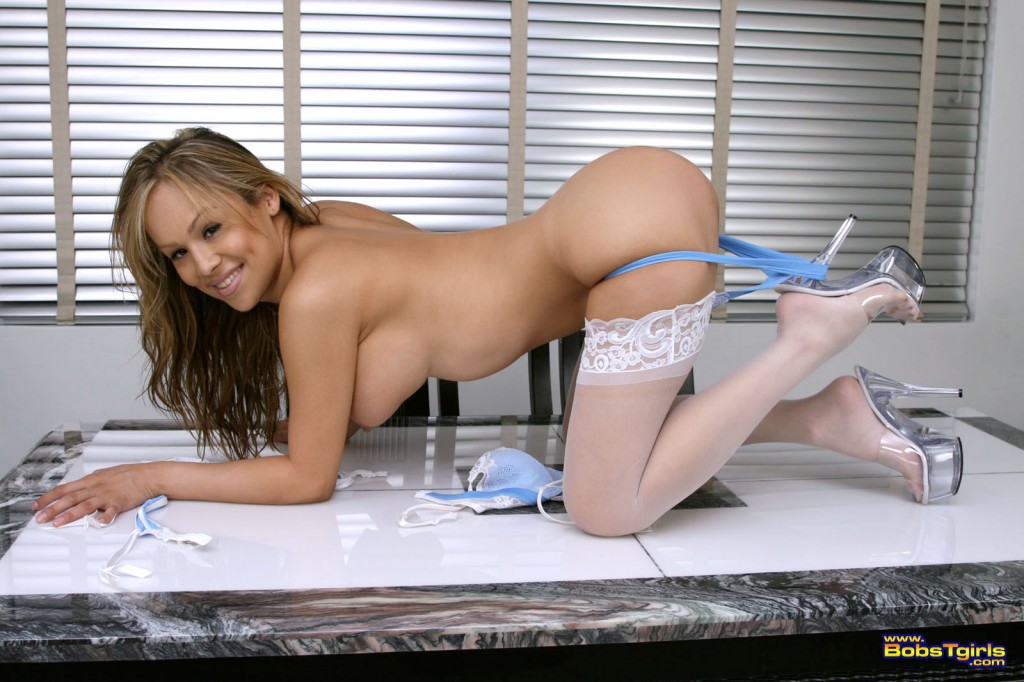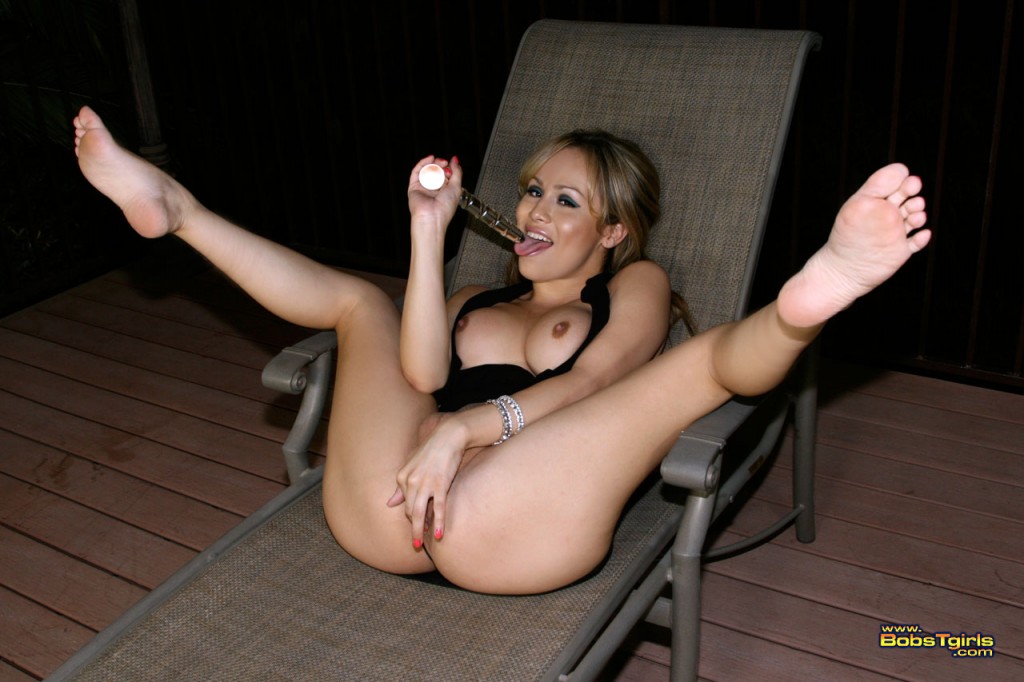 If there is one thing that you can count on in this crazy world of Shemale porn, it's that DeliaTS will come through each and every holiday with an awesome and inspired themed shoot. This year we've got our mittens on some preview pictures of one of Delia's holiday shoots and it looks like someone is being a little naughty and unwrapping their package on the early side!
DeliaTS is one of my favorite sites to visit for hot stroking action… I love watching her live on her Webcam when she schedules a show… nothing better than hot, live Shemale stroking action, right? Give yourself a little holiday treat this year and check out DeliaTS!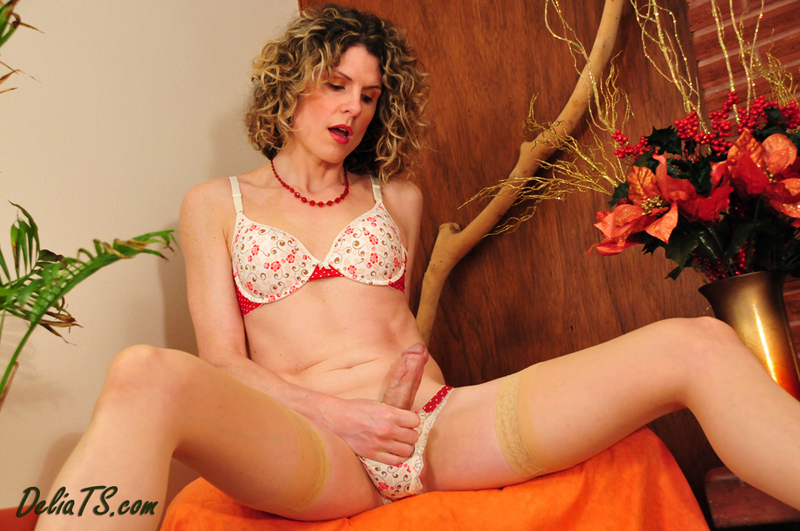 Japanese shemale Kana is feeling a little low key. She just wants to relax in her pajamas, but there's something twitching in her panties telling her that she wants to jerk herself off. Kana can't decide whether she wants to just go to bed or give herself a quick tug before going to sleep. Her dick keeps poking up against her underwear trying to get out. Finally, Kana succumbs to her desires and tugs on her cock with such force you would think she'd push the cum right out.
Click her to see how she decides to massage her throbbing she-cock!
Meet Jennica, a sexy shemale hottie from Vegas, and she gets off on being dominated. She told me how she can't wait to do porn and her big dream is to get gang drilled by four horny studs. I don't think it will be hard to find dudes for this scene either. I mean for real dude. Just look at those lovely little boobs of hers and that cute shemale butt! This naughty little sub could get drilled by any number of dudes. I think I'll put out the casting call today.
I just enjoy my friend's stories about his bad-ass shemale dom, and last night he wouldn't stop telling me about her. She was wearing this sweet silver jumpsuit, zipped down just enough to expose her huge perky boobs. He was shackled as she whipped his butt with her leather crop. Then, she made him get onto his knees and work her shemale dick deep into his throat. You would just enjoy letting this controlling babe do force you into kinky actions.
This stunning horny shemale looked sodelicious last night, I thought my camera was going to catch fire. I was hard like wild at the view of her tiny gold outfit, and about shit myself when she began undressing. Her little boobs were utterly perfect. The only thing hotter was her fabulous shemale dick, and sweet tight butt. This hot babe will stamp an impression upon your mind that will have you hard for days.
This naughty Asian shemale was teasing me last night, as I watched her through my best camera. Her naughty fishnet stockings and long black boots had me gazing at her slender soft legs. As she held open her smooth thighs, you could check out a teasing glance up her leopard-print skirt. I began drooling at her luscious shemale dick and tight round butt, immediately. This perfect Asian chick will keep you hard for days after you've discovered her.
I chill with this naughty shemale babe that lives down the road, and she just enjoyed teasing me with a story of her getting naughty last night. Her massive perky boobs and hard nipples would make any man firm, as she took off her sweet pink top. Then, off came her pants and her tiny black thong was revealed. I would have jizzed my drawers at the vision of her naughty shemale dick. You'd never be able to get this chick's flawless sight out of your brain.
My pal and I were at a house-warming last night, and he told me all about this lovely chocolate shemale he discovered, Blondie. She smiled at him as she tore off her slutty white top. Her cute titties and pointy nipples would have you losing it in a wink. If only I could have got a look at her lovely sweet booty and slender naughty legs for myself. This nasty chocolate hottie will be in your thoughts for a long time to come.