Britney Markham is a sexy voluptious Latina shemale from Los Angeles. A great body to complement a pretty face, add to that a sexy big hard and uncut cock and you have one sexy tgirl. In this hot scene she got together with male model Christian for some hardcore fucking and sucking. Britney likes to be in the drivers seat and fucked Christian hard. Enjoy!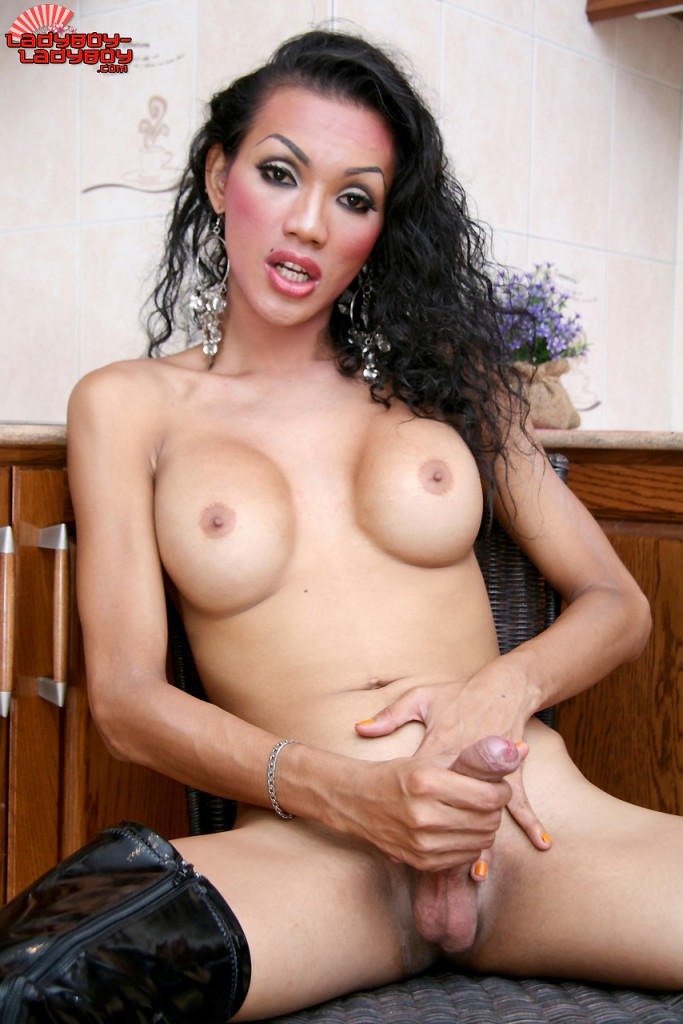 We have some sexy Ladyboys for you this week. An update that might as well be called the "Cumshot Edition"! Sexy Ladyboy Ball is our first tgirl for you. This hot ladyboy has a sexy smooth body, rock hard uncut cock, a very pretty face and sexy well rounded boobs, perfect for fondling! Thai shemale Fon is a kinky girl with a sexy body, and large uncut cock. In this hot scene she was clad in leather boots and PVC! PI Ladyboy Ghell has a sexy body, supple tits and a hard cock. Watch her squeeze it devoid of cum. Tgirl Ika is a hot tall and slender ladyboy with a pretty face, hard uncut cock and long red hair that really suits her! Thai ladyboys Sonya and Gina got togther for some hardcore fucking and sucking! Watch as these two devour cocks before they both cum on Sonya! Enjoy all this Ladyboys here !!
You need a bunch of tough labor to keep a decent marriage thriving. Marylyn has been feeling the passion slipping out of her fucking recently and has decided to shake things up a bit. When her husband gets home from work, she's all laid out on the couch, in just a school girl uniform and stroking her massive shemale dick! Her husband can't get enough of her huge boobs in that white shirt and immediately starts sucking her dick. In no time, the two of them are going at it right on the floor!
We can't get enough of shemale movies this hot! From what I understand, these two sweet Thai ladyboys Irene and Fiona have been dating for a few months and tonight is their anniversary. They've decided to celebrate with a night out on the town followed by some hardcore fucking. Irene is a blonde babe with small boobs. She climbs on top of Fiona's massive dick and drives it in her butt. She holds on to Fiona's massive juggs while she bounces up and down. Once it's finished, This hottie is drenched in spooge!
Here we are with another amazing fucking movie. This one features these two gorgeous shemales, Kiki and Nancy. Both of them are gorgeous little Thai chicks with pretty faces and even sexier bodies. Nancy is more the dominant one and loves forcing Kiki to suck her cock before fucking her in her asshole. Kiki loves every second of it! Nancy forces her to spread her butt cheeks out before cramming her cock in her really hard and blowing her wad all over her back. These two are incredible, and it will keep you wanting more!
This young couple is holidaying in a tropical paradise. They are feeling relaxed and letting down their guard, trying out new things – especially sexually! The husband is at the beach one day when he picks up a gorgeous brown skinned goddess and takes her back to the hotel room to meet his wife. They all start to get busy on the bed, but when the husband reaches down between his new found friend's thighs he is surprised to feel something rock hard where there should be a wet pussy! He feels a throbbing between his own legs when he feels the cock in his hand and a hardcore threesome of epic proportions ensues – with a double facial finale!
This luscious young redhead wife has always wanted to indulge in her lesbian fantasies. Her husband is drinking at the bar when he meets an extremely attractive and feminine t-girl, and he brings her back to the house to meet his lover. His wife is initially excited to finally get to satisfy her lesbian urges, but is totally shocked when the tranny pulls down her panties and a big cock pops out – almost as large as her husband's! However, the redhead doesn't have any compunctions about tasting that sweet tranny cock, sucking it to the base and then taking the dick in her pussy and ass hole. The wife ends up drinking two cumloads.
Mariana is a take charge kind of shemale with a big fat cock and the desire to use it. She gets her cock sucked and spreads this guys ass for all it is worth. And she dumps a major load in his mouth that he drools out.
Read More Click Here!
Paul just couldn't resist the call of a cute little piece of Latina meat like Carmen, with her sweet sexy lips and even sweeter tits…but it turns out Carmen was carrying a little extra meat that Paul didn't know about. By then though, Paul was already thinking about burying his cock in between Carmen's firm funbags…who cares if she was a chick with a dick….right?