New Porn Movie with sexy Shemale Bruna Butterfly . Kinky director Joey Silvera, the king of transsexual erotica, crowns the most alluring and sensuous TS beauties in porn. The latest edition of his long-running pageant of gender-bending supermodels, Joey Silvera's The Next She-Male Idol 6, subtitled, The Test, features a bevy of stunning, top contenders seducing the camera with their mysterious and erotic ways. Bruna Butterfly and Beatricy Velmont are a gorgeous pair of ultra-feminine Brazilian chicks with dicks dolled up in lacy lingerie. The sexy Latinas enjoy a make-out session, then reveal their stiff she-cocks for some intimate blow jobs and ass fucking. Statuesque blonde tranny Nikolly Gaucha shoves her big boner down Alex Victors throat and smothers the studly perverts face with her powerful ass. The happy couple engages in mutual anal fun that climaxes in a cum-swallowing cum-clusion. Frisky Latina she-creature Camila Klein dances in fishnets and a short skirt; bodaciously round-bootied biological girl Luana Azevedo worships Camila, riding her raging rod and drilling Camilas asshole with toys before taking a messy sperm facial. Skinny blonde Nicole Bastiani takes a soapy shower and gets her throbbing dick sucked by a male admirer; they trade anal favors until they both shoot their loads. Finally, back in the States, Joey and real girl Tori Lux pick up exotic she-male Annalise Rose for some hard-core play. Which one of these otherworldly beauties will pass The Test and become Joey Silvera's The Next She-Male Idol 6? It's truly the people's choice . Click here to check it out
Today here at Sexy Shemale i have Blonde Shemale TS Lucia in black Fishnets and High Heels . Rarely do i go for the classic sexy aesthetic.. you know, thigh highs, lace, heels. I do like it though and here's a scene showing it off. bonerific.
Another Shemale beauty from Tampa that I have had the privilage of shooting. This was Shania's first shoot and she was pretty nervous. We started our first set of photos and she quickly warmed up to it. Shania is versatile and has a fantasy of standing on a balcony looking at the view, while getting fucked from behind. (Interesting).Shania is a dancer and a performer and she showed us some of her moves on video. Shania had no problem in getting hard and provided us with a good cum shot in the second scene.
Alyssa is a newer Shemale Princess on the scene in Toronto. I discovered she was visiting Vancouver the same time as me so I called her about doing a shoot. She is of Spanish descent giving her a nice sexy look.
Alyssa was a little reserved at the beginning of the shoot but the longer it went on the more she got into it. Soon her long cock was at full hardness and she made us some hot poses. She is a very nice girl and we got along well.
After the shoot I gave her a ride out to the airport for her return flight, just one of the many services we at shemaleyum offer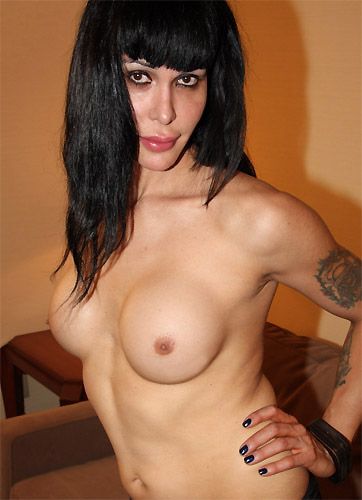 Do you like Shemales in Fishnets ?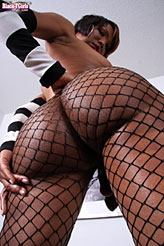 Sexy Black Shemale Angel showing up her black Tranny Ass in Fishnets .
If you have time and like to chat with a hot and horny Black Tranny take a look at Shemale Kymber below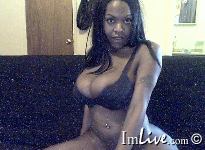 sexi kymber here with 38d breasts 27″waiste and 40″hips and a 9″cock thats ready to erupt when provoked.fullfill your most deepest and intimate fantasies with me in a world where pleasure crosses different bounderies

Fishnet stockings and gloves are more then enough to tempt your hard cock. Katoey Kai looks deep into your soul with those piercing eyes and you know exactly what she wants. No playing around tonight, she wants to swallow your raw cock and have you rip her fishnets to anxiously get access to her sweet Ladyboy ass. When it comes to fucking Kai doesn't have time to waste, so whip out that dick and show her what you got! Watch a video of Kai swallowing sex toys with her receptive asshole tight now.
Click here to see much more!