Sexy Ebony Shemale Pornstar Sasha Strokes fucks a Guys Ass . While getting ready to close up the store for the night, Sasha Strokes is visited by Clay. Desperately needing a massage after his long day at work, Clay rushes to the store where his favorite masseuses work. Sexy Shemale Sasha decides she is going to work out every last kink in Clay's body to ensure that he requests her services in the future. Clay soon realizes he has just encountered the sexiest shemale with the phattest ass and biggest cock he'd ever take in his life, and is thoroughly pleased.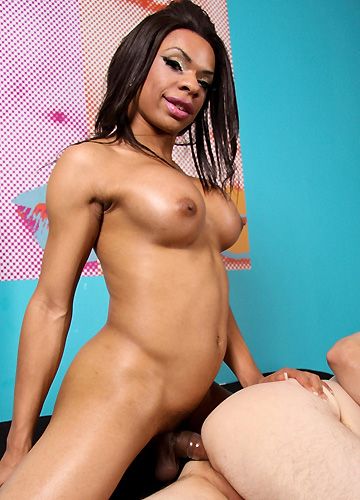 Shemale Pornstar is Relaunched! This site started in 2000 and was one of the premier transsexual websites online at that time, featuring the highest quality photosets of models such as Sylvia Boots, Kimberly Devine, Gizelle, Saigon Lee and Carmen Cruz. Now under the ownership of Grooby Productions, Shemale Pornstar has been relaunched. Our mission to bring you ONLY the true shemale pornstars, the models who have made a name for themselves and whom are among the most sought after in the world. See the best quality photosets and HD video of these trannsexual superstars in hardcore action, behind the scenes and solo sets. As a bonus, we've re-mastered the original content, to bring you the tgirls of yesterday, as you've never seen before! This is the new, relaunched v2.0, Shemale Pornstar. Take the tour or if you've been a member of our sites before, we're confident that you'll be ready to join.
This sexy black shemale is aptly named Heather Hung, and she's really well hung! She's a pretty young Shemale with a fabulous body, pretty face and a tasty dick. Here, see this Shemale sweetheart flash a raunchy grin while showing off her meaty dick and extra tight bung… while outdoors! See her steam up the garden by jerking off her tasty and rock hard ebony Shemale dick! Watch her full set of photos inside Black Tgirls and see more hot and horny black Shemales with well hung cocks!
She's been writing poetry ever since she could hold a pen, and she's one of the most gifted around. Her name is Africa and she's got one of the best bodies I've ever seen. After the poetry night ended, we ended up back at her place where she let me see some work that not everyone gets to see. She came out the bathroom in a sheer black dress that revealed her sweet titties and massive shemale dick. If the red-hot audition she gave me means anything, she'll be on the team in no time!
When this sexy ebony shemale said she would do a photo shoot with me, I figured I betterget things in motion before she had second thoughts. Her firm boobs and hot nips could make anyone a tranny fan! I'm sure you will enjoy her shapely stems and award-worthy booty. Just looking at this nympho's chocolate shemale dick could cause a massive eruption. I sport a boinier for hours every time I check out Black T-Girls.
This wicked ebony shemale dom, Mistress Gabrielle, had me dazzled as I observed viewed the scene of her through my lense yesterday. I observed in reverence as she bound up her naughty little sub. He stared up at her as she got him to inhale her firm shemale dick. Then, she tossed him over and savagely reamed his tight little butt. I know you will constantly think of this amazing ebony shemale's torture.
I saw this lovely ebony shemale at the rave club the other day, and she just couldn't keep her off me. I stripped her naked and sucked on her huge perky boobs and hard nipples. She went to town and drew my hard throbbing hard on into her hot little mouth. Then, I forced her legs apart and pounded her sweet shemale butt all night long. You'd get an immense woody watching this hot ebony babe .
My chum was talking about this delicious ebony shemale babe he encountered while we were playing scrabble. Her huge boobs and hot perky nipples made him hard in no time. You'd jizz yourself at the view of her long smooth legs and firm juicy butt. Once he got a look at her lovely shemale dick, he almost jizzed on the spot. If only I could have fucked this lovely ebony chick for myself.
I found some bad ass ass drilling today. I've found a great sex scene featuring this cute ebony shemale babe named Nookie and some dude she's picked up. His name is Manny and he's in for the fuck of his life. Nookie strips off her clothes and starts inhaling his dick, slurping it up with her slippery tongue. Soon, when she's got him so worked up that he can't stand it anymore, she climbs on top of his dick and drives it into her tiny butt hole. Nookie drills him deeper and deeper until he finally whips it out and cums his wad all over her boobs!
We all love a good, nasty ass pounding scene, don't we? I know I do. So do these two. Kitty is a short ebony shemale with great cans and a perfect ass. She's just lovely. Her boyfriend, Christian, is a tall, muscled guy with a big dick. She whips it out and gives him head while he sits in a chair. Soon, it's hard enough to put in her, so she climbs on top for the ass pounding of her life. Kitty screams when he slides his huge dick into her tight butt hole before finally cuming all over her chest.
Coming home from school the other day, I saw this marvelous little black shemale. As she crossed the street in front of me, I imagined her bare. I'd probably be dazzled by the sight of her smooth legs and gorgeous round boobs. I'd love to shove her into the shower and start hosing her down, making her skin shine. I'd be unable to turn away as she rubbed that warm water all over her hot shemale body. Hopefully, I'll talk to her and make this really happen!