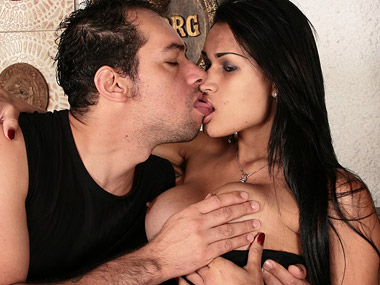 Claudio loves the trannys so when he saw Renata Tavares he knew he had to have her. He got her back to his place, pulled her tits out and started to suck on them. She fished his dick out of his pants and gave him one of the best blowjobs he had ever had. He bent her over and slapped her ass then put two fingers in her ass. He finger fucked her ass until it was relaxed then eased his entire fist into her ass. It sent her through the roof with pleasure so he pulled out his fist and put his cock in that now gaping ass and pounded her like there was no tomorrow.
Hey boys, it's Veronica Venom and I'm here to strip and stroke my fabuous cock. My dick has been aching to do this again for you, so let me whip this snake out and start the show. Watch me pump hard while I finger my ass. Get up close so my balls are in your face. Then watch as my snake spits. Wanna suck out the poison? Click Here To Watch Me Cum In My Big Videos
Japanese shemale Kana is feeling a little low key. She just wants to relax in her pajamas, but there's something twitching in her panties telling her that she wants to jerk herself off. Kana can't decide whether she wants to just go to bed or give herself a quick tug before going to sleep. Her dick keeps poking up against her underwear trying to get out. Finally, Kana succumbs to her desires and tugs on her cock with such force you would think she'd push the cum right out.
Click her to see how she decides to massage her throbbing she-cock!
I swear to god, Atlanta is probably the hottest place in the world for meeting cute African shemales. That's where I found Brenda here. This amazing light skinned African girl has long hair and bright blue eyes. The whole effect makes her come off like this amazing avatar of sexuality. I can't get enough watching this dirty little thing peel off her club outfit and stroke off her throbbing shemale dick. When you get a load of her perky shemale titties, you'll want to meet her.
This horny shemale dom had my dick hard the other day, as I looked at her through the web. Dom nurse Celeste truly got off on shackling her little slave up on the examination table. She took off everything but her sexy red lingerie and whipped his butt with excitement. Then, she showed off her big perky boobs and round nipples while forcing him to lick her shemale nuts. I will always hunger to be humiliated by this fabulous Mistress of agony.
When I found this naughty shemale hottie on the internet last night, I really wanted her to pet my trouser snake. She eagerly undressed, revealing her perky boobs and hard round nipples. Her luscious lips felt incredible as she inhaled my firm dick skillfully, slurping loudly as she moved up and down. She is the naughtiest babe I think I've ever discovered. The sight she left in my soul will leave me hard for weeks.
My pal at work was going on about this luscious chocolate shemale he fucked, as we tidied up around the office. Her spectacular perky bosoms and firm nipples were all it took to make him lose his mind. By the time he found her getting herself out of her naughty see-through lingerie, his dick was straight as a board. You'd freak out over her juicy butt and long soft legs as she stimulated you with her tempting smile. You'd shit yourself over this marvelous chocolate shemale chick.
This attractive young Asian shemale was thrilled to have me shooting some naughty shots of her the other day, as she played in the water. I observed thirstily, as she began getting off her white bikini. She aroused me with the view of her marvelous perky boobs and round hard nipples. You'd have jizzed your drawers, just viewing her silky long legs and stunning shemale dick. I will be thinking about this lovely Asian shemale for days.
Stunning shemale Brazilian Lorena made me firm as a rock, when I discovered her web-page last night. She had the most fabulous body, and I was eager to watch her get out of her slutty red dress. When you check out her sexy legs and ravishing shemale dick, you'll have a huge woody. This babe has such a marvelous thick bottom, I wish I could get a taste. I just can't stop dreaming about this spectacular Latina shemale.
When this sexy ebony shemale said she would do a photo shoot with me, I figured I betterget things in motion before she had second thoughts. Her firm boobs and hot nips could make anyone a tranny fan! I'm sure you will enjoy her shapely stems and award-worthy booty. Just looking at this nympho's chocolate shemale dick could cause a massive eruption. I sport a boinier for hours every time I check out Black T-Girls.