Sexy Redhead Shemale Domino Presley toying her Ass . Wow, I was on the longest vacation and I had soooo much cum saved up I needed to release it immediately!!! Why not give the fans what they want and release this hot sticky load all over my own face and down my throat. Cum watch me tease you on my couch while I watch some porn and put my body in positions you never knew I could do! This is my first self facial and I hope you enjoy it, I sure did…. By the way, it tastes like watermelon.
Hey guys, well I finally get my own website! As you hopefully already know, I'm a transsexual porn star, so step inside and see more of me, plenty more! Hopefully you will have already seen me getting naked and having fun on websites such as Shemale Yum, Frank's TGirl World and Shemale Pornstar amongst others. And if you haven't seen me naked before… well what are you waiting for baby?

Sexy Shemale Bailey Jay posing on a hipster couch
Hey guys, Bailey Jay here, and my official website has finally arrived! After a couple years of internet fame, and some random photo sets on adult sites all over the web, there is finally an entire sexy Shemale website (that I personally have a hand in) that is dedicated to me! This is the only website that will constantly be updated with the newest, dirtiest videos of me being a total slut and I will be cranking them out non stop, along with some candid, behind the scenes videos, and footage of me in everyday life, getting my hair and nails done, playing video games, getting lunch with my friends, and stuff like that. This is the only website that will constantly be updated with the newest, dirtiest videos of me being a total slut and I will be cranking them out non stop!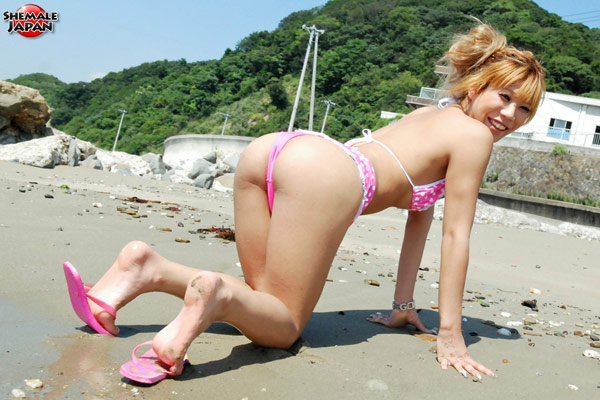 So just imagine you are sitting on your couch reading the newspaper when you decide to get up for a stretch. You get up off the couch and wander on over to your beautiful bay window overlooking the coast and your jaw hits the floor when you see the gorgeous Newhalf Reina posing for a photo shoot on Shemale Japan right outside your house! Talk about instant wood!
Of course, the more 'intimate' moments of Reina stroking her cock take place indoors far from the prying eyes of passersby… but you know there was some horny guy watching from that window as Newhalf Reina frolicked on the beach! If it was me in that house in the background, I'd have ran out the door with my own camera in hand!
I hooked up with this amazing black shemale at the aquarium store the other day, and took her back to my place for some fun. She squeezed her bouncy boobs as she reclined on the couch, slowly taking off her teasing outfit. I came like crazy watching her stiff shemale dick jump as I pounded her fast. I couldn't think straight for three days after nailing this horny shemale.

Teen Ladyboy Lee is such a cutie and she just loves to play. Teasing her man is something she so enjoys. Tempting you with glimpse of her panties under that cute skirt, flashes her tits when you least expect it and jumping on you on the couch when she finally needs to take this teasing to the next level. You remember when you were a teenager and how horny you were, well Lee is no different, and she is a sexual animal that really needs to be tamed!
Click here to see much more!
You need a bunch of tough labor to keep a decent marriage thriving. Marylyn has been feeling the passion slipping out of her fucking recently and has decided to shake things up a bit. When her husband gets home from work, she's all laid out on the couch, in just a school girl uniform and stroking her massive shemale dick! Her husband can't get enough of her huge boobs in that white shirt and immediately starts sucking her dick. In no time, the two of them are going at it right on the floor!
Tranny Banged My Stepmom Presents: Melissa, Ricco, Kalena Rios
Ricco's sexy blond wife is shocked when he walks in the door one day, closely followed by a scantily clad transsexual. However, his wife is keen for anything – the more cocks the better – and she eagerly allows the tgirl into her bed. The wife wraps her lips around the tranny's cock while her husband licks her pussy from behind. By the end of the scene, this well hung stud has both ladies bent over on all fours on the couch and he fucks both of their asses one after the other. His wife reserves the right to swallow the cumload, taking it in her mouth, but then she swaps it back and forth with the tranny and with her husband.
We find Vennessa backstage on the couch in the lounge stroking her cock in her black pantyhose and sexy punk rocker boots! After some stroking and dildo slamming we see her shoot a nice hot load of cum!