Sexy Blonde Brazilian Shemale posing her fine Body at Brazilian Transsexuals .
Hell yeah, get ready for some new outstanding update bringing the best brazilian Shemales . Lets go to the classic with venerable models and a juicy new face with right to our indispensable Shemale lesbian hardcore.. Returning for our happiness nothing less than Adriellly Vendraminny and Juliana Soares, 2 of our more important models of this time. Both in great shape, very horny and ready for invite you to a intense game of Sedution where everyone ll get a delicious cum. Giovana Portylla is the newbie of this week with such a fabulous beauty and lots of malice. This babe ll rock your world inviting you dive deep in the ocean of libido that is her smoking hot body. She loves invite guys in night parties for a sex marathon where she ll make everything possible in bed then if you re in her sex list get ready for all kind of pleasures a Shemale can offer.. So enjoy the Blonde Brazilian shemale above
Hardcore brings one more premiere with Evelyn Rangel & Brenno Biagi, burning sex with a t-newbie that exhibits potential to bring us a lot of happiness and erections. A lot of pleasure and orgasms in this spicy scene .
Innovations are always appreciated and this will have a special flavor because brings a tranny with great potential. The couple corresponded to our expectations offering us pure pleasure and perspiration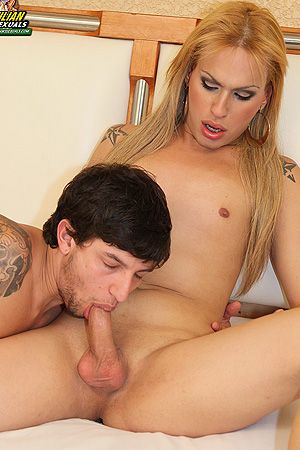 More Brazilian Shemales
I'd spent all morning digging through the web for smut when I found this pair of beautiful Brazilian shemales. Come check out a couple of the most little bodies I've ever seen. I'm positive that the view of their sexy small titties and erect nipples will have you slobbering. You will go nuts over these luscious babes as they deep throat each other's shemale dicks. These two hotties just showed me the roughest sex on the internet.
Man, you've got to get a look at these two! This is one of the most intense shemale on guy scenes I've ever seen! Domy here is a remarkable blonde shemale with round boobs and more than a passing appetite for cock! She arrives at home in a black sports car after a long day at work and her man Rodrigo is waiting there for her. As soon as she gets out of the car, he pulls his erect dick out of his pants. She sucks it for him right there in the drive way while she jerks off her enormous dick. Soon, he lays her on the hood and drills her ass like a wild man!
Name: Alexia Nogueira
Age: 21
Place of Birth: São Paulo / SP
Present Location: São Paulo / SP
Favourite Man: A man with a good heart.
More of Shemale Alexia at Brazilian Transsexuals
Damm this Redhead Brazilian Shemale Princess looks so cute in her black Lingerie

Name: Amanda Costa
Age: 20
Place of Birth: Fortaleza / CE
Present Location: São Paulo / SP
Favourite Man: She loves well buildt and muscular men
See more at Brazilian Transsexuals
Name: Nadinny Broenza
Age: 22
Place of Birth: Sao Paulo / SP
Present Location: Sao Paulo / SP
Favourite Man: She likes to dominate men, but she also like sthose who can withstand her strong will
See more at Brazilian Transsexuals
Damm this sexy Brazilian Shemale Beauty looks really hot in her white Bra and her white High Heels
Name: Roberta Queen
Age: 24
Place of Birth: São Paulo / SP
Present Location: São Paulo / SP
Favourite Man: She likes men who are adventurous in bed and can make her cum many times
See more of Roberta Quenn at Brazilian Transsexuals
Damm this blonde Brazilian Tranny babe looks so nice in her sexy Lycra Dress .