Sexy Shemale Carmen Moore gets her ass fucked on Shemale XXX. Shemale Carmen Moore has a hot curvy body, big boobs, a gorgeous ass and a deliciou cock! She is very into Spencer Fox and it shows in this smoking hot hardcore sex scene! Enjoy more from sexy Shemale Carmen Moore at Shemale XXX !!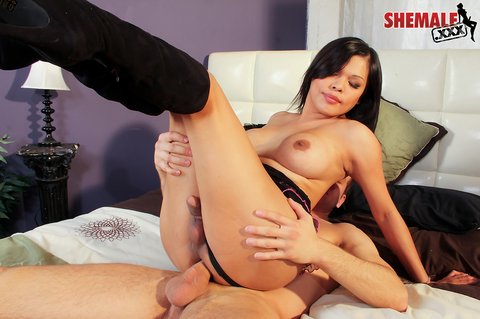 Sexy Shemale Jordan Jay in black Bodystockings and red Boots . Any excuse for me to model my new red kinky boots hehe, you have to admit these knee boots were made to be photographed and showed off 😀 (and you know i will do a shoot ANYWHERE lol) they look even more awesome with my bodystocking and dick hanging out 😉 come in and see just how naughty i get in them… 😉 Click here to see more from Shemale Jordan Jay
Hiya Guys, and welcome to my website just for you!! All the hard work has finally paid off and i hope you enjoy what you see, just has much has i have enjoyed doing it 😉 I am assuming you have seen or heard about me, in which case have fun watching me in new sexy scenes and hot clips. If not, then you're in for a nice surprise (hehe). We all deserve a treat so cum inside and see me in sexy Lingerie, getting naked with my pert tits, hard cock and tight ass…i know that's what you really want. 😉 Have fun!!  Shemale Jordan Jay
Aniiaha is a brand new sexy Shemale who is also brand new in her transition. I was floored when she told me that she has only been in transition for 2 months. This girl is amazingly beautiful and has a killer body. Watch the videos for a real good look at just how sexy this girl is. Ultra feminine in every way and her voice is amazing. She gets hard instantly and has a nice cum shot too! I am definitely looking forward to working with this sexy shemale again soon.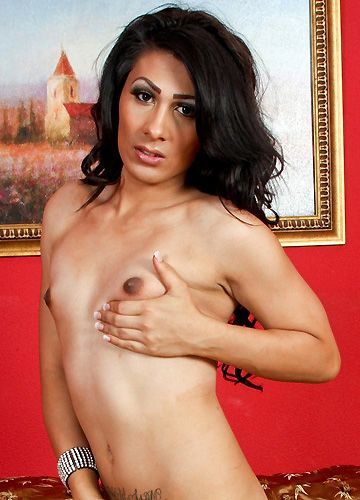 We have a new mega cock tranny for you today and I think you're going to really like the size of her black cock! Watch Joyce put on a slow striptease in red panties and white boots before whipping out her monster and once it's out, there's no putting it back until it has been satisfied.
Likem BIG? Do you likem THICK? Who doesn't like sexy girls with huge cocks! These vixens have a modelesque beauty but are viscious when you let them on top! With dicks thicker than a can of pop ready to burst no bottom is safe. Are you man enough to take on 9 or 10 inches of super cock? If so, Welcome to Mega Cock Tranny!
Time for one more Upadte here at Sexy Shemales . Slim and beautiful Shemale doll Laviny Albuquerque is outside on a beautiful summer day for some solo action. All this horny shemale needed was a chair to have a good time on this hilltop today. This horny blonde hottie puts on a hot striptease and masturbates her cock for you.
Welcome, we feature only the freshest and finest tgirls! Ultra feminine bodies with big rock hard cocks stripping, stroking and cumming. The content is 100% exclusive and we update regularly with new shemale beauties masturbating for your pleasure! Take a look around our free preview and experience the hottest shemale babes doing the naughtiest things at Shemale Solos!
Today here at Sexy Shemale i have blonde Japanese Shemale Kanato posing in black Boots . I am sure you`ve heard of, if not know very well about, Cosplay. Did you also know that Cosplay based on anime characters has a big following in Japan? Kanato is a TV celebrity Shemale newhalf who owes her fame to cosplaying anime characters from such globally successful anime series as `CODE GEASS Lelouch of the Rebellion` and `MACROSS Frontier`. Strictly speaking, Kanato is a cross-dresser rather than a newhalf. She has never used hormones. However, when dressed up there is something about her that is so feminine and just very intriguing! Shemale Kanato is 20 years old now. She is originally from Nagoya, Aichi Prefecture but now lives in Tokyo. She likes to spend her leisure time on hanging around Akihabara, Japan`s famous Electric Town, reading fantasy novels, and playing video games. She also likes to play the piano, a skill she`s had since childhood. Her favorite musician is Chopin. Her favorite movies are Titanic and The Matrix; Her favorite actor is Leonardo DiCaprio and actress Scarlet Johanson. Sexually Kanato is attracted to men. She loves to be topped in anime character costumes. She told me that she discovered the joy of masturbation through pole climbing when she was young, and rubbing herself to a pole is still how she likes to get herself off now! When Sexy Shemale Kanato is in her Cosplay character her voice changes – she sounds like a genetic girl and guys have no idea. She confessed that often times she would go with a guy in disguise and then told him the truth when they are already in the hotel room. `So far not a single man who claimed to have no interests in a cross-dresser did not fall for me,` said Kanato with a devilish grin. A 20 year old cross-dressing enchantress is this Kanato! Click here to see more at Shemale Japan
Sexy Shemale Domino Presley and I first talked through myspace and she was very eager to shoot as soon as she came out to L.A. from Atlanta. I saw a few pictures but had no idea just how beautiful she really was until she showed up at my door. Wow!! She's got everything that I personally dig in a t-girl…gorgeous face, sexy body, booming booty…she exudes femininity!! She lives in L.A now. We've done quite a few shoots since and have become good friends. You'll definitely be seeing more of Domino here!!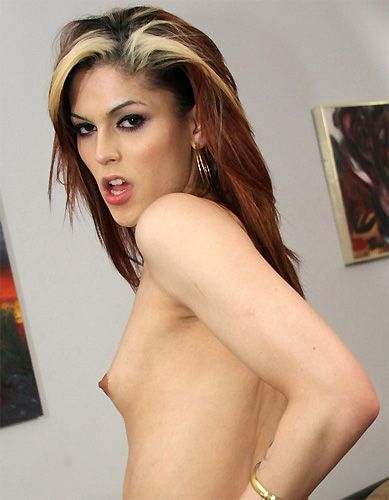 Shemale Isabelle Foxglove back again for you to worship. I know you like to watch, but I need you to do more than just sit there. I demand pleasure. Touch me, lick me, taste me. Kiss my boots, then suck my cock. Once you've earned the right, you can sit back and watch as I fuck my ass with a dildo, then stroke my hard cock until I spray myself with my own hot cum.  Click here to Join Shemale Strokers now !
Related Posts :

Sexy Amy wants to be in control! Dressed in her tight shiny red devil outfit, Amy gets hot and horny barking commands to her love slave. Shouting orders to lick her boots, Amy cracks her whip and tells her boy toy that he's been a very bad boy. Taunting and teasing with that tight ass and those full round titties, Amy's cock is hard and ready for action. I wouldn't mind being on the other end of that whip!
Click here to see much more!