The sexy Shemale Pornstar Jesse recently shot some awesome pictures of her in some pink lingerie that I think you will really enjoy. Actually, it is probably a bit more accurate to say that she shot some pictures out of her pink lingerie, which is kind of where you want to see a Sexy Shemale like TS Jesse! I do like that TS Jesse left her pink stockings on for this shoot though, and together with her black high heels, they really serve to accent to those firm legs of hers. This first picture of TS Jesse holding her bra up against her big tits while giving her best "come hither" look to the camera is one that should drive you wild with lust. And, for you ass guys out there, how about taking a look at this last picture of Sexy Shemale Jesse's ass with her Shemale cock hanging down, just waiting for a little attention!
Sexy Blonde Shemale Jesse posing her huge hard dick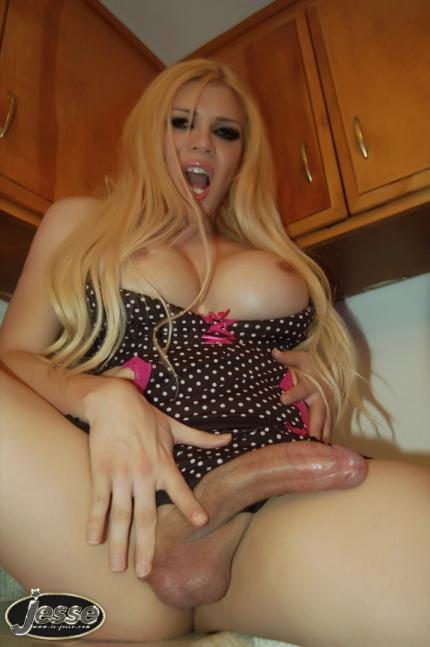 Hi there! I'm Jesse and this is my New Official Website! I've been working real hard to bring you my hot sexy new site where you can find the latest and hottest photo and video selections. Cum! watch as I have fun with others and by myself. Who knows maybe I could be having fun with you if you win one of the contests I'll be having. So sit back and enjoy all the hot pictures and videos of my big hard cock, tight ass, big tits, and that big load I'm gonna shoot! See ya inside!