Sexy Acadia Veneer is back for another smoking hot hardcore scene! This time she seduces Giovanni and gives him a great blowjobe before she ask him to return the favor and suck her cock! She rides Giovanni's hard cock and lets him fuck her every which way before they both cover her in their hot cum!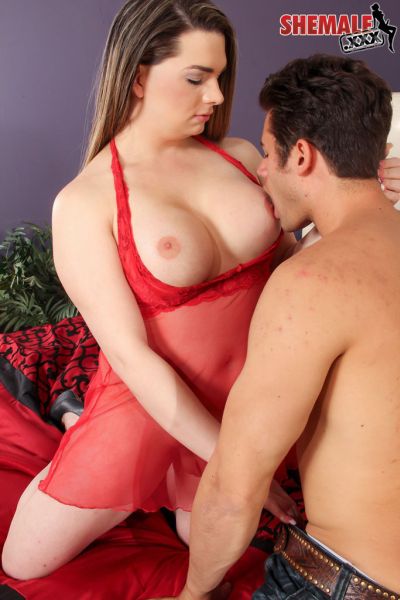 Born in Rio de Janeiro, Brasil the only child of a Brasilian mother and German American Father, I am a 25 year old Natural Blond ( LOL ) Bombshell. When I was 14 my parents moved to America and shortly when I was 16 I started dressing in the clothing that I always wanted to wear, then I decided to transition and live full time as a woman. I used to dress up in mom's clothing while I was growing up. Mom is as supportive as ever. After I decided to transition I moved to San Francisco, CA. where I lived for 4 years, A great city and wonderful people. I look up to several TS women, Candice Caine, Erica Andrews, Mimi Marks, Monica Munro, Vicki Richter, Roberta Close ( SRS from Brazil ), and many more are just some other names on my list. I believe a girl should look up to fabulous women as a guide to build their character. I learn from everyone I meet, even if it's a brief conversation . I like to make people laugh, I have a dry silly sense of humor, I am a nut, just like they say on the commercial " Brasil…where the nuts come from".
My view in life is: Everyone should dream… I am just looking to live my life comfortably and peacefully…The American Dream. I believe anything is possible if you dedicate yourself to your goals and give it one hundred and fifty percent of your energy and time working towards it.I also believe that destiny plays a great part in someone's existence, but although your path is written, you may chose running and laughing or being miserable and sad about learning while crossing such roads. Live one day at a time, but keep your dreams alive, in the long run we all die alone, but it's our positive impact in the world that makes us who we are. Do it all now, try it, experience life, learn, love,  make love, treat others with respect, be honest…Karma is a Bitch! It did not materialize the way I planned it, but being a transsexual is still being compared to the Hunch back of Notre Dame. People love us, but are afraid and insecure to admit it or talk about it. I am going to work really hard and reach for excellence in hopes of some day my talent be recognized so I too can have a voice.
I would like to thank a few people who made my career and life such an amazing journey. First of all – The most sweetest of all TS girls…Vicki Richter, I thank her for believing in me 4 years ago, and helping introduce me to many of my current on going professional relationships. A few of those names include Sammy Mancini, the man behind "Shemale Strokers", my mentor, dear friend and someone I look up to and learn from. On that note Joey Silvera, this man is insane and his movies are off the hook! His style of shooting has inspired my own! Also to the most talented and open minded genetic females in porn, who put themselves in a higher lever and disconnect themselves from discrimination embracing being open minded strong women, transcending criticism and hypocritical nature of the business, the women who I have had the greatest pleasure to work with – Belladonna, Ariana Jolee, Avy Lee Roth, Christy Lee, Leila Lay, Cindy Crawford, and Delilah Strong. On the last note the people who always come first in my life are my friends and family, through rough and smooth waters, though the pain and laughter they are always on my side, reaching out for my hand when I fall behind. My dear family in Brasil, Rhonda, Sammy, Vicki, Kyle Foxxx, and Angela – Thank you for putting up with me. Last but not the least my fans, thanks for the lovely emails and your kind words, thank you for your loyalty and your loving way of supporting me through my many projects. I really enjoy what I do and have a great need to do it the best way I can with you in mind. It is my pleasure to bring you the deepest fulfillment and make all your naughtiest fantasies a reality. I love to be watched and desired by you all! Thank you again for all the love you express to me, in our personal meetings, videos, and emails. I hope I give you as much joy as you have given me.

XOXO Danielle
Black shemale Kewi has a stunning slim body, great boobs, a hot ass and a hard cock! In this sexy scene at Black Shemale hardcore she's getting some tutoring from Rick when he takes an interest in her boobs! Kewi returns the favor and pulls his cock out for a great blowjob before she bends over and lets Rick take her sexy ass! Sexy hardcore fucking ensues! Enjoy the free Preview Pictures of this sexy Shemale below before you take the free Tour at Black Shemale hardcore !