Can't you just hear the harps and soft swish of angelic wings alighting all around Kimber James as she poses for this gallery on Club Kimber James? The soft light from the window bathes our Shemale beauty in its warm rays and bounces off her blond curls giving you just the hint of how soft they must be…
OK…enough poetry. Pretty damn hot pictures though. Whoever took these Kimber James pictures should definitely get some 'props' (do people still say that?) for some really amazing lighting. And of course, a photographer would be nothing without a good subject and Kimber James is definitely one of my favorite subjects to look upon!
Shantell is a very sexy transsexual from Mexico living legally in Orange County California. She's very horny and did the shoot like an experienced pornstar….not at all shy and very comfortable in front of the camera. Awesome toned and slim body with nice ripe breasts. In her second set she finished with an intense orgasm with great cum play. I have to send thanks to Michelle for hooking me up with her friend.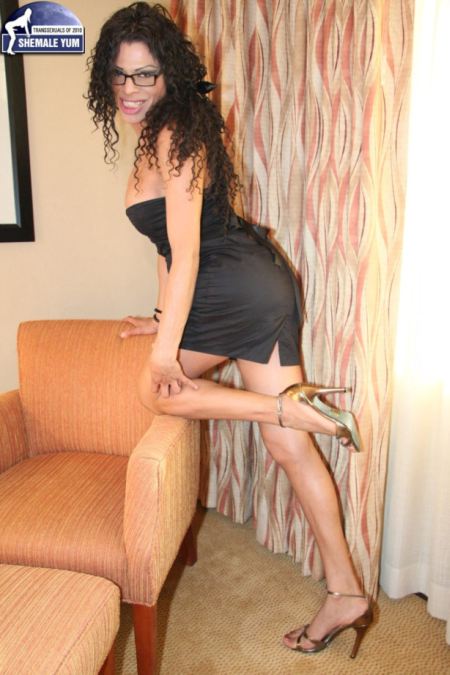 Victoria Di Prada is a seriously good looking girl and it looks like she's ready for some serious Shemale stroking action in this new set for her Official Site. Anytime I see a girl with a glove on and tiny little scraps of clothing dotting their bodies, I know that good things are about to cum…
I think this makes it about 3 or 4 months now that Victoria has had her own Official Site and I hope things are doing well for her because I really enjoy checking her out! She has one of the best bodies in the business (just check out that ass) and I wish her continued success in 2010 on her way to becoming one of the hottest Shemale strokers on the planet!
Desteny is a sexy Latina I met a little while ago. I finally talked her into doing a shoot, she was great! A sexy body and she's very horny!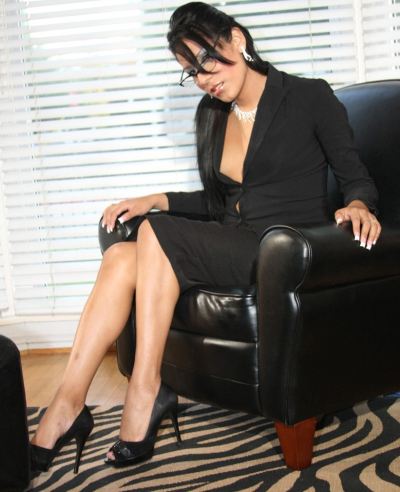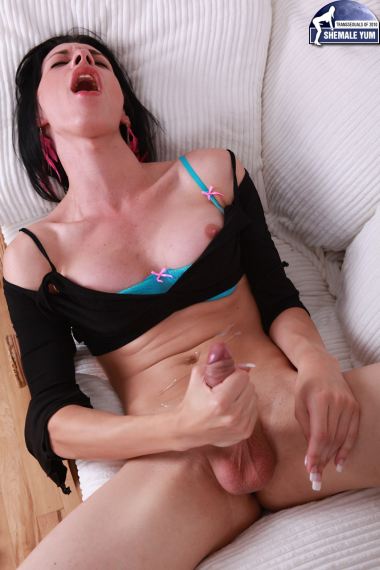 Jordan is a 21 year old Transsexual from Nottingham, United Kingdom, tall at 5'8 with dress size 8, 34C bust, brown eyes, black medium length hair, sexy full lips, slightly toned body, well endowed and a cute tight ass.
She has studied hairdressing as well as dance training before going onto working as a showgirl/dancer and also did some previous modelling work in the adult industry.
She loves shopping, especially buying sexy lingerie, also loves to dance and sing and performing, she works out regularly at a gym and loves getting a sweat on 😉 she also enjoys nights in with a D.V.D, meals out and cinema/theatre just as much as clubbing and strutting her stuff on the dance floor

and generally love to just have fun and enjoy life! "I take pride in my appearance; pampering myself, sunbed, love hot guys with a fit body! and especially love SEX!"
This hot tranny named tili visits her hot friend Pierre not to talk about how their day was but to have some hard cock inside her, she starts by sitting on his lap and kissing him deep and hard while grinding into his hardon then finally gets down and takes out Pierre's hard cock and starts pounding it in her mouth as she feels in her throat thrusting deep inside. Well after a well thrusting she gets on all fours while wearing those lovely knee high leather boots and is ready to take Pierre's cock deep inside her hot tight asshole, so without much wait Pierre aligns up his massive cockhead and takes the plunge thrusting the whole length of his cock into tili's asshole, ramming hard and intensely for a long time until finally taking it out and Cumming all over tili's body, what a great photoset.
IF YOU LOVE THESE PICS CHECK OUT THE REST OF THEM HERE
Hi, I'm Jessica Fox. I'm a very kinky girl. I've got great new breasts now to go along with my beautiful hard 7 inch cock. No one knows I'm not a real girl. But when I'm with you, I'm a very bad girl and I'll do anything to please you. You can use me for a drink holder and ash tray – I'll even be your maid and dust your cock clean for you with my feather duster. Don't believe I'm kinky? Watch me cum a thick white load, then lap it all up for you. Now it's off to the shower.
Click here to Join Shemale Strokers now !
This is one of those sets that make you hard in an instant, these 2 lovers Vicky & Milton got into a bit of a discussion about what they liked best in the bedroom, well next thing you know they are getting naked and Vicky goes down on Milton swallowing his whole cock and loving it as she sucks his whole length, after a while she thinks its only appropriate to sit on his hard shaft and ride him hard for what seems like an eternity. In all this she doesn't remove her delicious pink bra that holds her nice tits, after a while Milton starts pounding her from behind as her tight asshole gets stretched wide while he pulls her nice brunette hair, finally when he's about to climax he makes sure to pull out his massive meat stick and ejaculates all over her asshole.
if you love vickys pics here check out the rest of the set in HD
Are you ready to be my little Submissive Slut? I'm Mysa Del Rio and I'm here to get you on your knees, Slave. Can you suck cock? You may not be able to handle this one. I've got 10 1/2 inches that will make you choke. Watch me get messy as I drain this black snake of every drop of cum.
Click here to Join Shemale Strokers now !