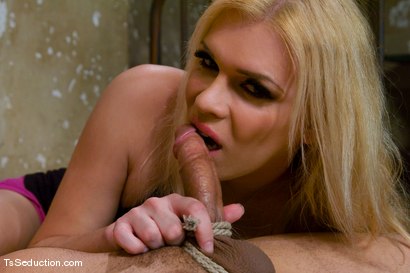 Jesse is just amazing, and she loves to play with new slaves. Le Rock is back for more. Jesse serves up a lovely verity of sensual and seductive play. Then she gets him all tied up before dishing out the rough stuff. She gets his legs back behind his head and has a little taste to get it nice and wet. Jesse fucks him until he cums and then she shows him her creamy white load. Jesse is always looking for news slaves to play with, will you be next?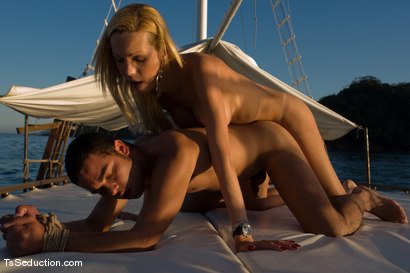 Captain Renata D'Avilla
Performers: Gabriel Lemos , Renata D'Avilla
When you're on a beautiful boat, surrounded by islands, lush with tropical forest, what more could you ask for? What could make this better? Captain Renata D'Avilla, that's what. If you're a bad seaman, you will be punished. You will be strung up in front of the whole crew, and an example will be set. While they are hard at work, you will be serving your Captain in more ways than one: sucking her cock and getting fucked like a little bitch.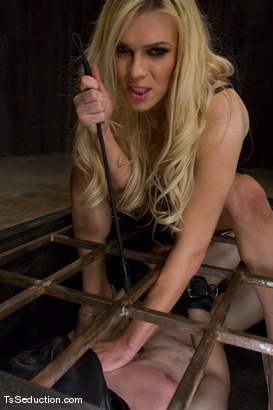 The beautiful Jesse is back and hungry for prey. On the menu today is a submissive male, who will do anything to please her. Jesse locks her slave in a cage and teases his cock through the bars with a torturous blow job. Kade eagerly pleases Jesse by sucking her rock hard cock and worshiping her body. But this is mere foreplay for Jesse who wants nothing more than to fuck her slave in the ass. After an intense fucking complete with a zipper of clothes pins that are ripped off Kade's body, Jesse cums on his sensitive chest.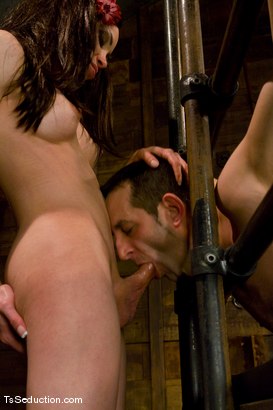 The Ride Ain't Free – La Cherry Spice and Jason Miller
Performers: La Cherry Spice , Jason Miller
La Cherry Spice picks up a hitch hiker and seduces him back to her dark play room. When his blind fold comes off, Cherry goes to work on his lean body. "You should be careful who you take rides from…" she says in a sexy voice. Jason is made to suck her cock, worship her feet and spread his ass cheeks for fucking. Cherry rides Jason first in standing doggy until he squeals and stands on his tip toes and then once flipped over into missionary, Cherry fucks him until she cums on his stomach. Looks like Jason just may be did know who he was getting a ride from after all.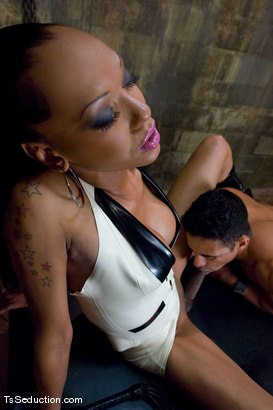 Foxy is a new girl with a huge cock and hungry to devour boy pussy. She's tall, dominate and hot as hell. In this set she ravages her submissive, teasing him with her cock, letting him suck her deep, long and slow. All the ways she likes it. Once her cock is wet and hard she plants it deep in his ass pulling out only to cum on his willing stomach.